The government has continued to find ways to harness the huge volume of gas currently being wasted by Nigeria oil companies. The amount of gas flared, is sufficient to power two liquefied natural gas trains as well as generate about 3,000MW of electricity. This would potentially dislodge other fuels like coal and diesel that generate greater emissions per energy output
The Programme Manager, Nigerian Gas Flare Commercialization Programme, NGFCP,  Justice Derefaka, mentioned that an estimate of 22 million tonnes of Carbon IV Oxide was flared by oil firms in Nigeria, which worth about $500m (153 billion naira).
Billions of cubic meters of natural gas are flared annually at oil production sites around the globe. Flaring gas wastes a valuable energy resource that could be used to support economic growth and progress. It also contributes to climate change by releasing millions of tons of CO2 into the atmosphere.

During oil production, the associated natural gas is flared when barriers to the development of gas markets and gas infrastructure prevents it from being used.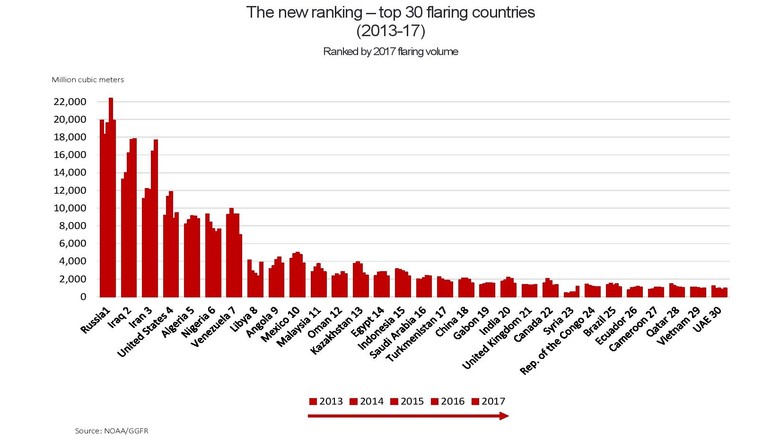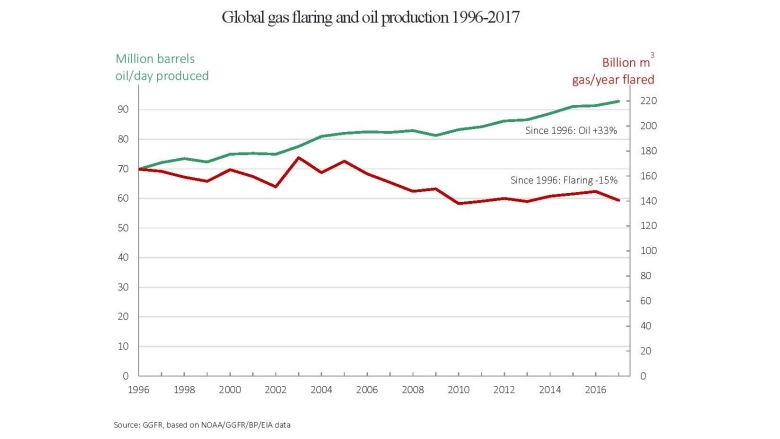 Aside the associated huge economic loss, gas flaring contributes to climate change, which has serious implications for both Nigeria and the rest of the world. The burning of fossil fuel, mainly coal, oil and gas-greenhouse gases-has led to warming up the world.
The flares associated with gas flaring give rise to atmospheric contaminants. These include oxides of Nitrogen, Carbon and Sulphur (NO2, CO2, CO, SO2), particulate matter, hydrocarbons and ash, photochemical oxidants, and hydrogen sulphide (H2S). This can affect acidify the soil, cause acid rain and have great adverse effect on human health and the environment
The Federal Ministry of Petroleum Resources (FMPR) stated that Nigeria is committed to the reduction of greenhouse gas emission, under the Paris Climate Change Agreement. The NGFCP would reduce Nigeria's CO2 emissions by approximately 13 million tonnes per year, which could be monetised under an emission credit or carbon sale programme.
"We designed the NGFCP as an important climate change action plan for the nation. And just so you know, the NGFCP is the first market-driven programme undertaken on this scale globally, which means bidders will have the flexibility of choosing which flare sites to bid for, the gas price, and the end market or gas product, as well as the technology to be used," Derefaka said.
The NGFCP is designed as the strategy to implement the policy objectives of the FGN for the elimination of gas flares with potentially enormous multiplier and development outcomes for Nigeria. The objective of the NGFCP is to eliminate gas flaring through technically and commercially sustainable gas utilization projects developed by competent third party investors who will be invited to participate in a competitive and transparent bid process.

The commercialisation approach has been considered from legal, technical, economic, commercial and developmental standpoints. It is a unique and historic opportunity to attract major investment in economically viable gas flare capture projects whilst permanently addressing a 60 year environmental problem in Nigeria
In respect to the call for interested bidders to bid for gas flare sites, the ministry noted that Over 700 organisations had registered on the Nigerian Gas Flare Commercialization Programme portal to bid for about 178 gas flare sites  discovered to be located in the Niger Delta regions.
Utilisation of natural gas resources can help Nigeria move toward a more sustainable and cleaner energy path. It is the fossil fuel with the least carbon intensity, half the footprint of coal at the point of combustion. It is likewise the least-cost source of flexible electricity supply for grid-based systems with fluctuating supply and demand. UK, for instance, has begin to move away from coal-fired power plants to cleaner sources
Those optimistic about renewable energy resources to meet our energy needs, often ignore the point that neither solar nor wind energy can provide electricity 24 hours a day every day. They provide energy only intermittently, requiring gas turbines for back-up, when the sun isn't shining or the wind isn't blowing.
Natural gas has less than half of the carbon content of coal, and electric utilities should be encouraged to switch to the cleaner burning fuel. To have the huge natural gas reserve base,  and not make use of it would be a mistake.